Over 15,000 motorcycle, moped and scooters were stolen in London in the last year - half of all vehicles stolen in London.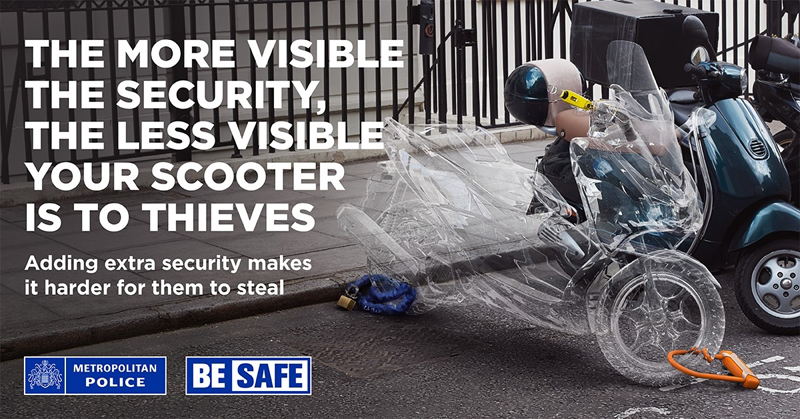 It takes a matter of seconds for a thief to steal a moped, scooter or motorcycle, especially if they are left either unsecured or with inadequate security.

To help our customers combat motorcycle theft in London, Motoden are offering 15% discount on all security products through the end of July.
****************************************
Use code SECURITY07 to receive your discount
Advice to protect your motorcycle or scooter
1. Always use the steering lock and remove the ignition keys, even if you are close by or away for a few minutes. It only takes a few seconds for a thief to jump on so don't make it easy for them.
2. A common method used by thieves to steal a bike is to break a steering lock and simply wheel the bike away. Using a chain lock through the back wheel will help prevent this (the front wheel can be removed easily so won't help).
3. Where possible, secure your bike to an immovable object, such as a ground anchor, railings or lamp post, which will also stop thieves from just picking the whole bike up.
4. If these options aren't available, always try to thread the chain through your bike frame and back wheel. This helps protect parts being stolen and stops thieves from simply using a hammer/ angle grinder to break the lock if it's left trailing the ground.
5. Using a disc lock also helps to secure the front brake disc to physically stop it from being wheeled away.
6. Thieves often 'shop' for particular bike models, so using a bike cover instantly makes it less attractive to them, as they can't see if it's the model they are interested in.
7. Don't store your V5 in your bike's storage compartment, tank bag or saddlebag. The safest place for this is at home.
8. Uniquely mark and then photograph your bike. If thieves take your bike, note its unique markings to law enforcement using the photos you have taken.
9. When traveling and spending the night at a hotel, locate an outdoor security camera and park your bike in the camera's view. If this is not possible, park your
bike close to your room. If traveling with other riders, lock motorcycles together when not in use.
LOCK IT UP!