Piaggio ONE
Brand: PIAGGIO
Product Code: Piaggio 2022 ONE Electric Euro 5
Availability: In Stock
Motoden now offer the option to deliver your Motorcycle to any address in London, within M25. All you need to do is pay a small deposit online and we will get in touch straightaway. The payment balance will be collected on delivery, cash or credit card. No time wasted!
5.9% APR
Piaggio ONE Finance Example
| | |
| --- | --- |
| | HP 5.9% APR |
| Price | £2500 |
| Deposit | £555.34 |
| Credit Amount | £1946.66 |
| Monthly Payments | £59 |
| Total Amount Payable | £2677.34 |
| Duration of Agreement | 36 Months |
The Piaggio ONE is available in Grey with Yellow accents, or White (see images).

Introducing Piaggio 1, a new generation of E-Scooters that enables you to experience the city without emissions, but with all the quality, technology and safety that Piaggio scooters are renowned for. This new scooter from Piaggio offers all the typical components that you would expect from a premium scooter: attractive design and attention to detail, refined chassis, handling and a generous load capacity. It is a new and exciting way to make a difference, it is a silent scooter with a removable battery, making your commute easier and 100% electric.
JUST AS YOU WANT IT

Piaggio 1 is available in two different versions. The standard model offers a top speed of 28mph and a range that varies between 34 miles in ECO mode and 27 miles in Sport mode. There is also, the Piaggio 1 Active model which boasts a maximum speed of 37 mph, a range of 52 miles in ECO mode and 41 miles in Sport mode.
Getting around has never been easier

Piaggio 1 is user friendly in every way. Starting with the ignition which has a keyless system, meaning that it doesn't require a traditional key and can be started using the practical remote control. To start, simply press the MAP button on the right side of the handlebar and select one of the two driving modes: ECO or Sport. The ECO mode, aimed at saving energy, offers greater range, speed limited to 19 mph and more progressive acceleration. Sport, on the other hand, is the mode where all the engine power is used for an even more thrilling experience.
Recharging couldn't be faster or easier

Piaggio 1 recharging operations are simple and easy to undertake. For all versions the battery is removable in seconds and easily transportable to enable recharge at home or in the office. Version 1 is equipped with a battery which has a capacity of 1.4 kWh and a weight of 10 kg, while the 1 Active version has a 2.3 kWh battery, which weighs 15 kg. The batteries do not require maintenance or special precautions and to recharge them you just use the charger supplied with the vehicle.
A Silent Revolution

The scooter is powered by an electric hub motor developed by Piaggio. It is integrated into the rear wheel hub which makes the vehicle leaner and more compact. The 1 is equipped with an electric motor that delivers a continuous power of 1.2 kW, while in the 1 Active version the power is 2 kW. Thanks to the lightness, the modern lithium-ion battery and energy recovery during deceleration, all versions of Piaggio 1 guarantee excellent autonomy.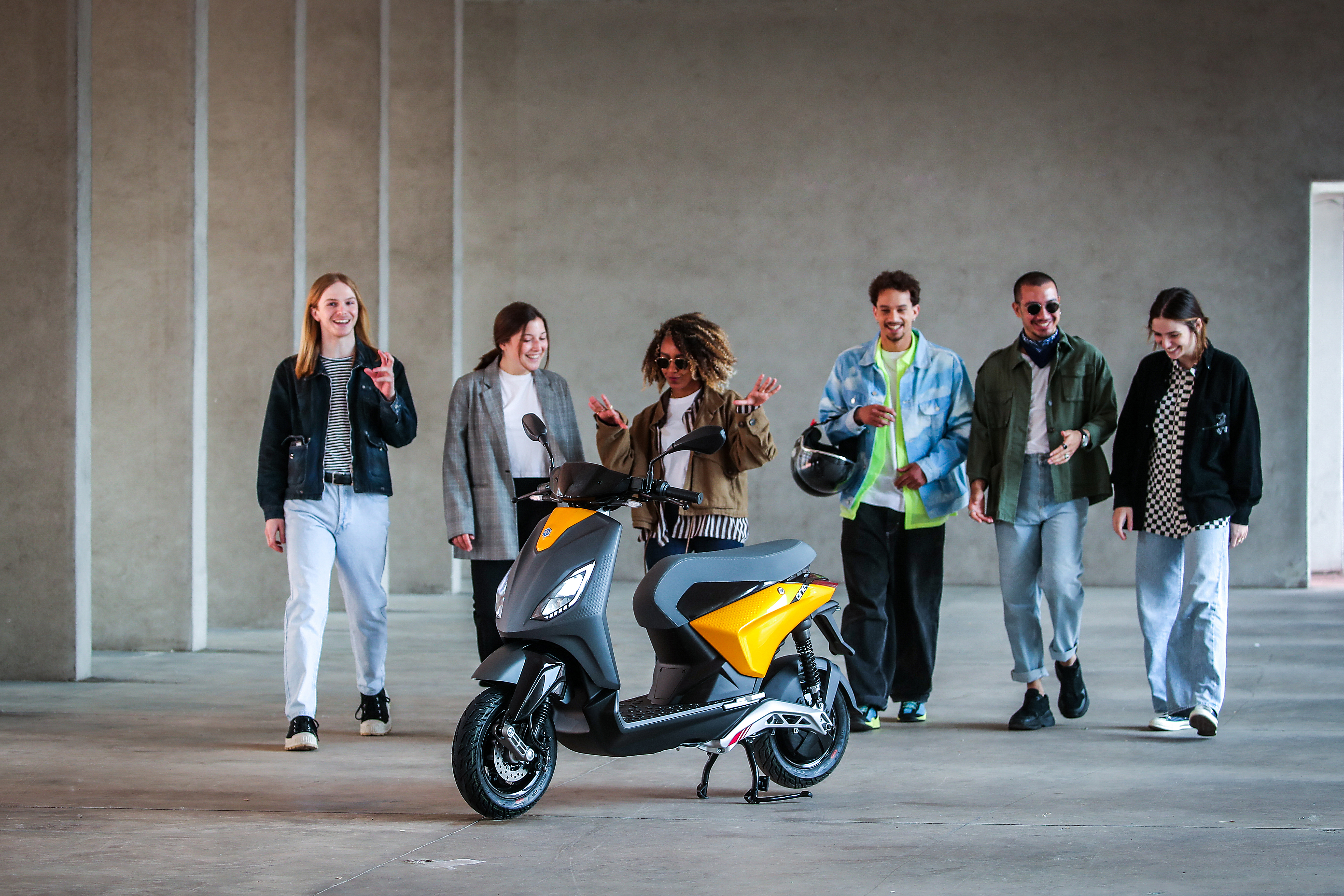 Designed in Italy, "ONE" is a fusion of colour, imagination, style, safety, and technology never seen before on an electric scooter. Inspired by the Piaggio tradition that created the legend of the simple, lightweight moped, "ONE" aims to revolutionise electric urban mobility, combining efficiency with fun.
Light, easy to ride, essential yet smart – as an e-scooter should be – the Piaggio ONE also delivers the best aspects of Piaggio scooters: quality, reliability, a robust chassis for maximum riding pleasure, and guaranteed safety and enjoyment.
The Piaggio ONE also features a range of technological features, including a digital colour instrument panel with a sensor to adapt the background and luminosity to ambient conditions, full LED lights, a keyless start system, and two motor maps.
The Piaggio ONE is a user-friendly two-wheeler, created to improve and simplify daily travel in an urban environment – using a remote start system to make it a keyless vehicle.
On the road, the new Piaggio e-scooter is a lightweight vehicle that is very easy to manage, with a comfortable riding position, low seat, a flat roomy footplate, plus practical and robust pull-out footpegs for the passenger. The Piaggio ONE is also the only e-scooter in its category to provide a spacious compartment below the seat.
Your new way to make a difference. ONE with the next generation of game-changers. A real scooter. Fully electric. If we want to make an impact, we need to move as ONE.
How do you power an electric scooter?
All you need is a standard plug to charge your Piaggio ONE whenever and wherever you want, thanks to the removeable batteries. It's just like charging your smartphone. Simply plug it into a normal power outlet.
Super-silent.

A new intuitive and quiet driving experience, perfect for all your commutes.
Green.

To make the world a better place. Because you're young, but you weren't born yesterday.
Easy to ride.

Riding a Piaggio ONE is ridiculously simple, with the same handling and safety you'd expect from any authentic Piaggio scooter. Even if you've never ridden a scooter before, you'll find ti a breeze to ride.
Fuel-free.
Say goodbye to queuing at the fuel pump and enjoy zipping around town with not a care in the world.
Maintenance light.
Electric vehicles are far less complicated than traditional ones, making your life much simpler.
Comfort for all.
From the seat to the handlebar and footrest, Piaggio ONE is designed for comfort so that you enjoy every twist and turn of your day.
Designed for you.
With a spacious footwell, roomy underseat compartment and the dimensions of a large scooter, the ONE offers amazing comfort, even with a passenger on board.
One of a kind.
Every component is thoroughly tested, with materials and finishes of the highest quality. Can you ask for more? (Spoiler: no!)